IN THIS ARTICLE
Create a Post
Add Topics
Poll your Community
Upload Images
Upload Videos
Upload Files
Record Video or Audio Snippet
Add Emojis
Draw and Annotate Images
Add Formulas with LaTeX
Share Coding Projects
---
Discover more ways to connect and engage in a Yellowdig Community. The post editor lets you edit code, write scientific formulas, attach media, draw, use polls, take pictures, link external sources, use in-platform hashtags, tag classmates, and much more. Navigate this article by using the side navigation bar (not visible on mobile).
Create a Post
First, to create a post in your Community, click the big blue CREATE button in the upper-right of your Community page.

If points are enabled in your Community and you've selected a points-earning topic (not all topics earn points), the yellow bar at the bottom of the post editor will gradually move to the right as you type. Once reach the word minimum, the bar will turn green, and you can submit your post and earn points.
---
Add Topics
Assign any number of topics to your posts. You can read more about topics here. Note that only the solid color-filled topic tags are point-earning topics.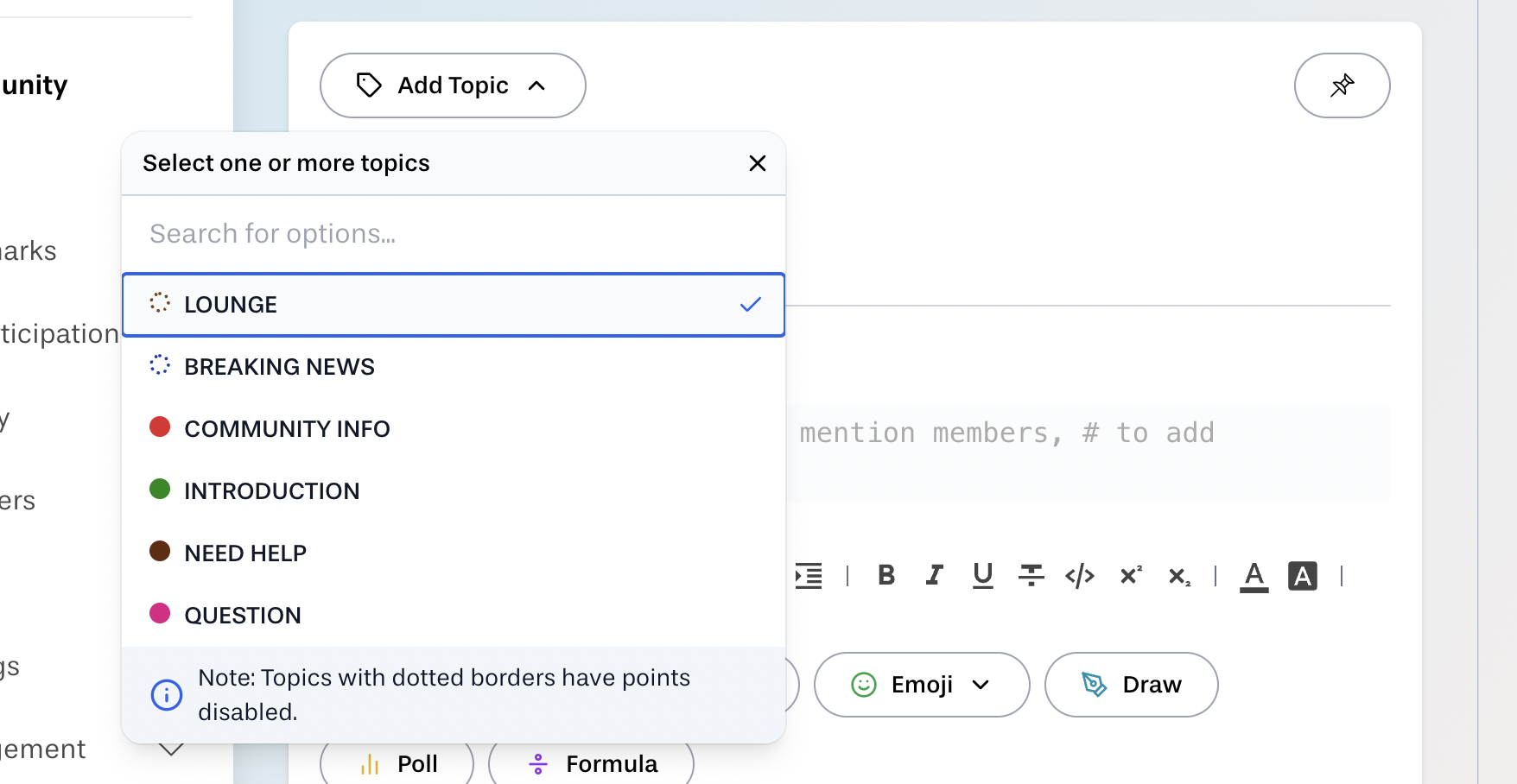 ---
Format Text
There are many different ways to format your text.

Detailed list of the text formatting options (read from left to right in the image above)
Font size
Insert indented quote
Bulleted items
Numbered items
Insert code block (hit "Enter" three times to exit block)
Insert table
Insert hyperlink (must highlight text to add hyperlink)
Remove Indentation
Add Indentation
Bold
Italics
Underline
Strikethrough text
Insert Code
Superscript
Subscript
Text color selector
Highlight color selector
Alignment selectors (Left, Center, Right, Justify)
Insert formula using LaTeX editor
---
Poll your Community
Create a Poll that is open to all Members of your Community. State the question for your Poll in the body of the post, and add answer choices under "Options." Determine when answer choices are displayed under "Show Results," and set the amount of time Community Members have to respond under "Poll Length". Read more about polls here.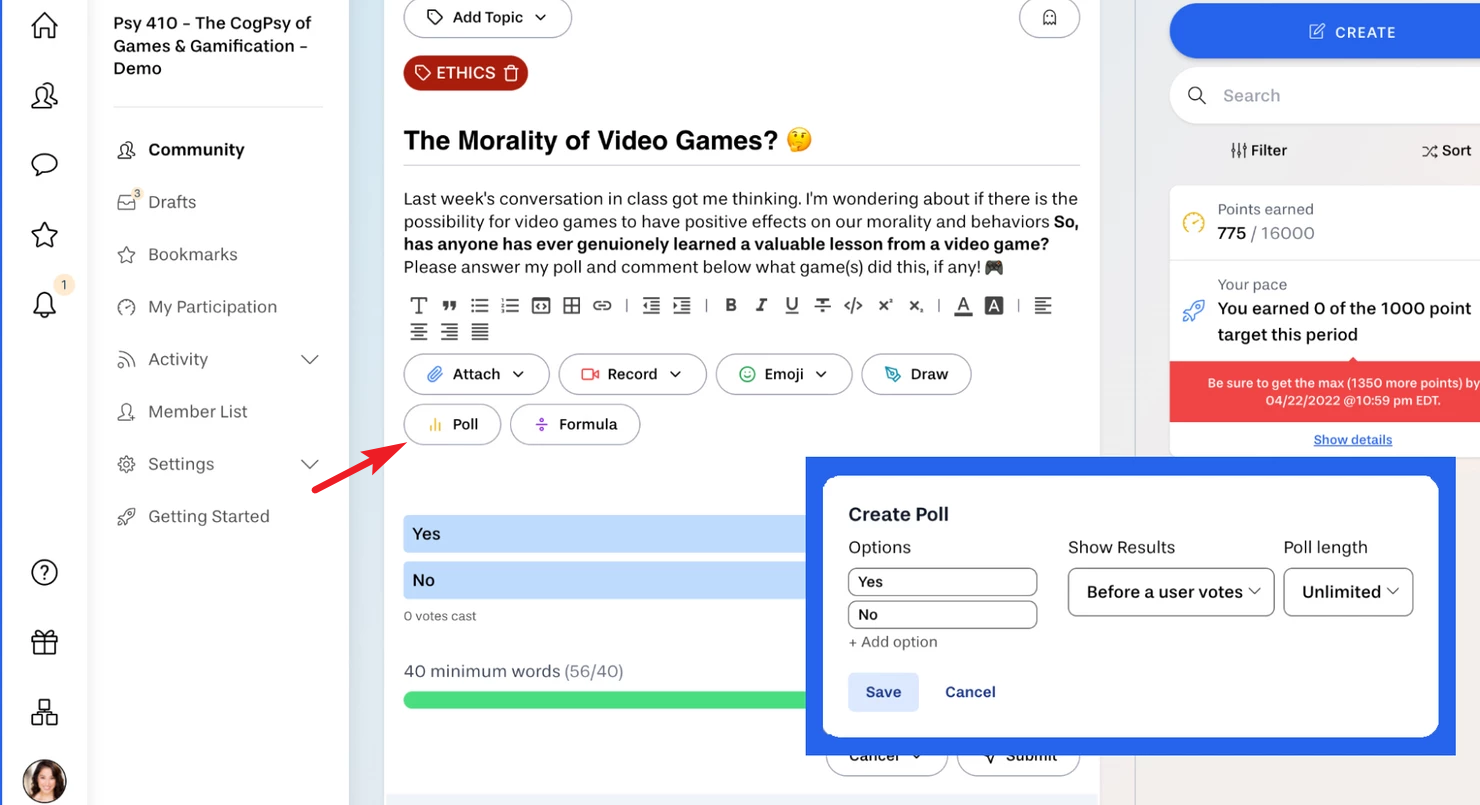 ---
Upload Images
Attach an image file from your computer. Only accepted image formats will appear as options (e.g., JPEG, JPG, and PNG). The maximum allowed size for the image is 512 MB.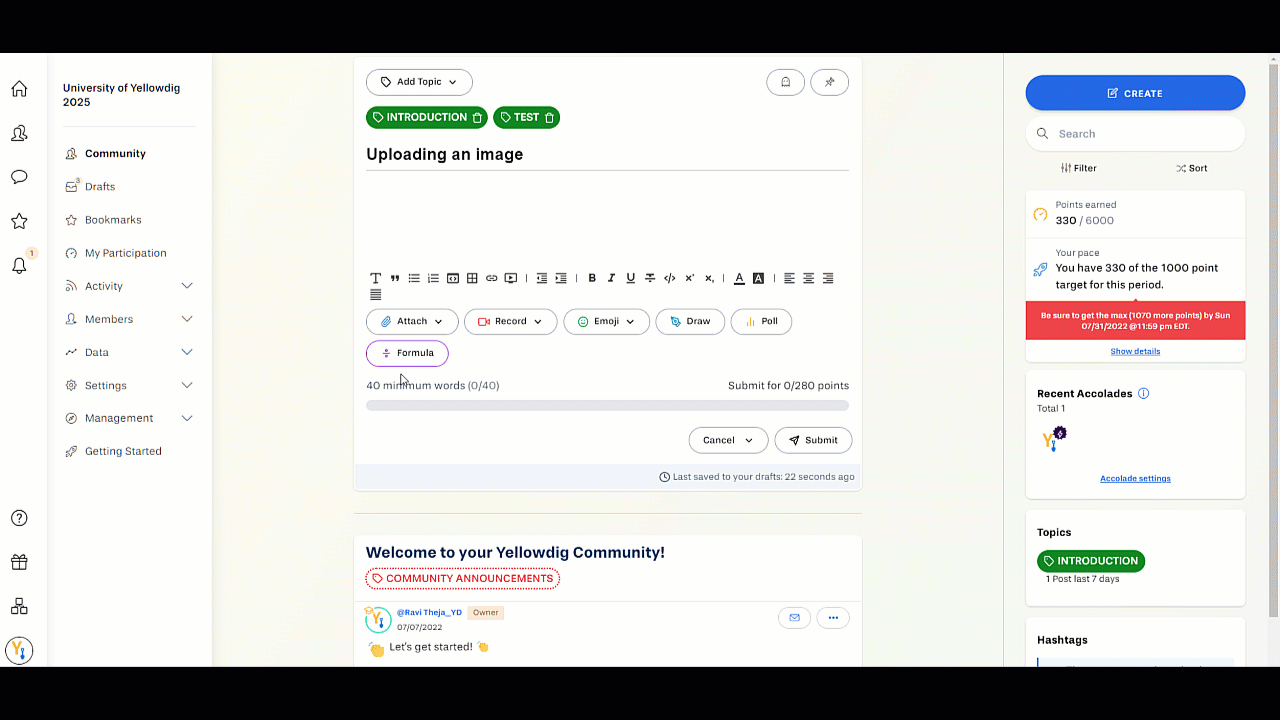 ---
Upload Videos
Attach a video file from your computer. Only valid video formats (e.g., MP4) will appear as options. Videos are automatically added to the Files page, where Community Members can download them. The maximum allowed size for the video is 512MB.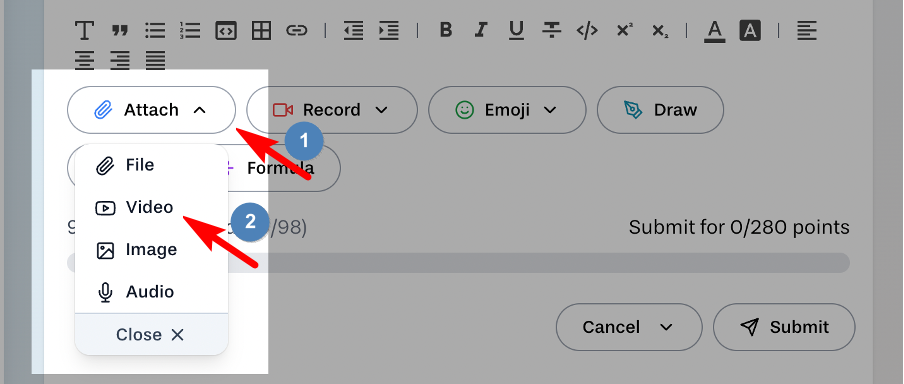 ---
Upload Files
Attach any file from your computer. Files appear in the post but are also automatically added to the Files page, where Community Members can download them. The maximum allowed size for the file is 512MB.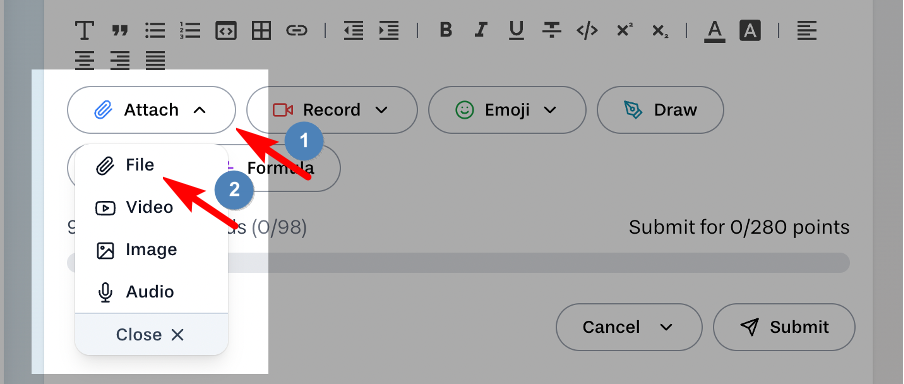 ---
Record Video or Audio Snippet
Record video or audio snippets from within the Yellowdig platform. Video length can be a maximum of a 90 seconds. Allow Yellowdig to use your camera/microphone. You may need to permit Yellowdig to access your camera and microphone while using this feature.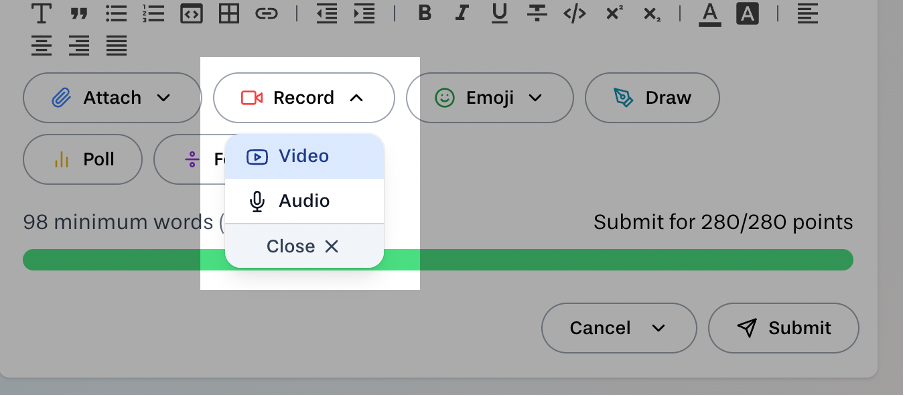 Click the Record button and select the Video or Audio options to begin recording. Then allow access to your computer's camera and microphone. Click on the play button to start recording.

You can pause or resume the recording anytime by toggling the Pause/Resume button. Click the "stop and discard" button that appears like a trash can to discard your recording. Click on the "stop and save" checkmark button when you're finished with your recording.
---
Add Emojis
Add emojis to your post or react to others' posts with one. Only emojis that are enabled in your Community and/or Network will appear as options.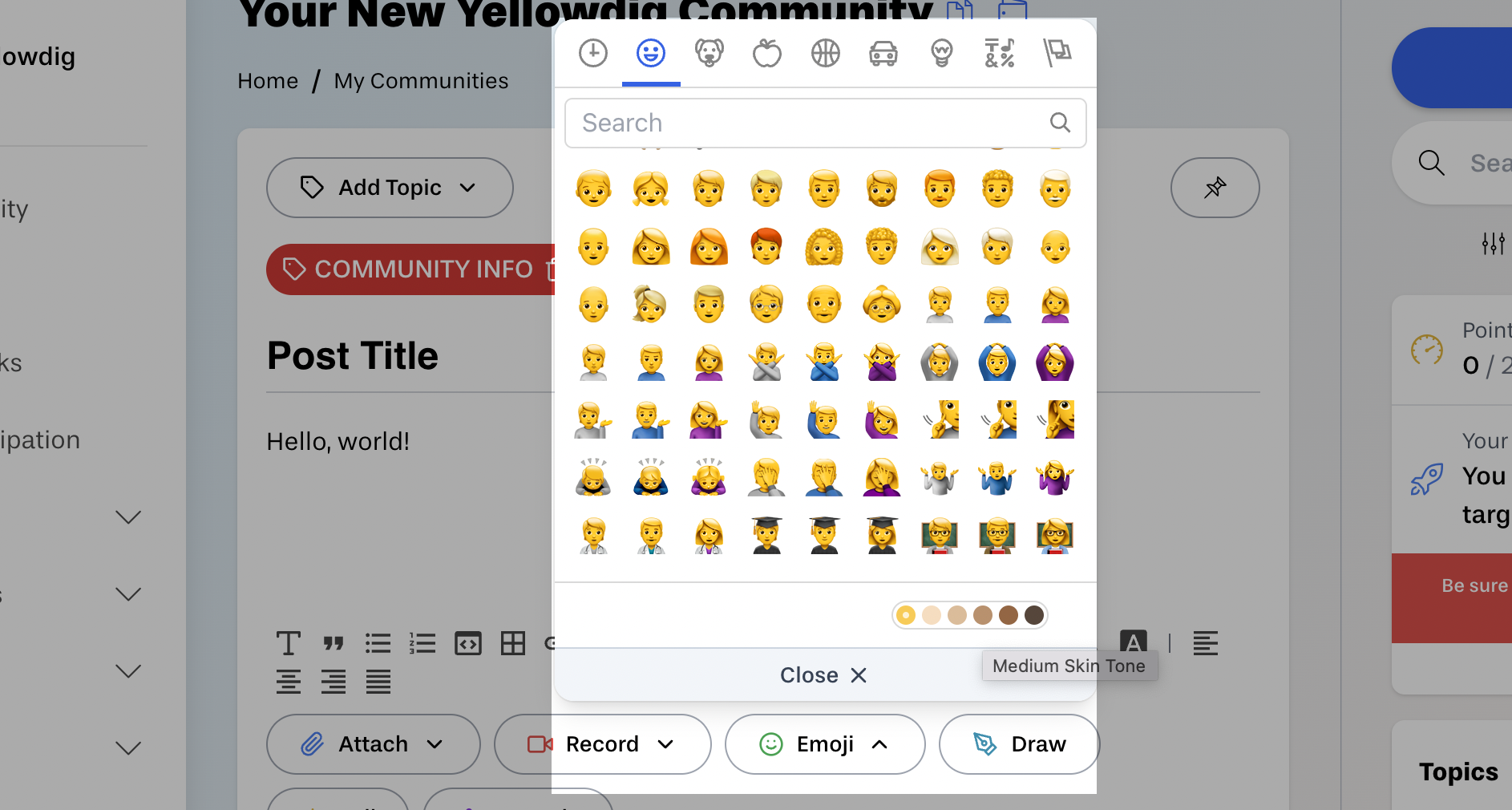 ---
Draw and Annotate Images
Use a drawing stylus for best results.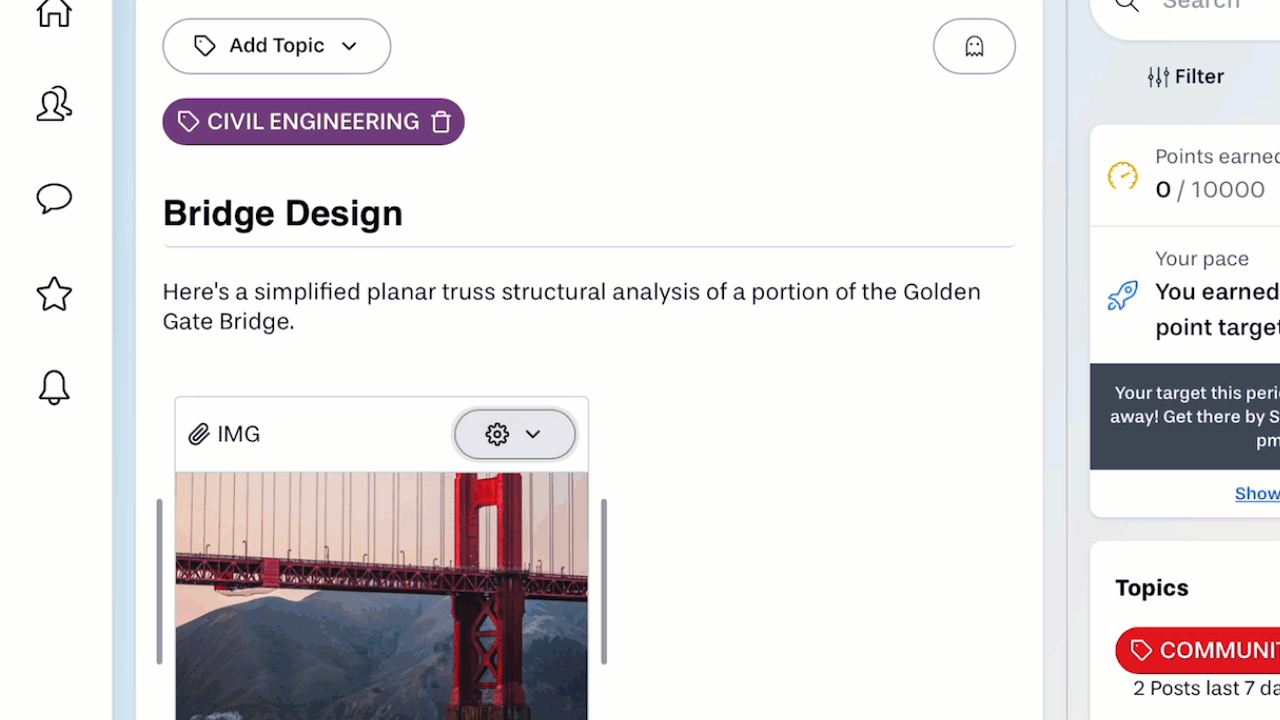 Select "Draw" in the post editor to open the freehand drawing tool. You can also upload a photo and draw on it.

---
Add Formulas with LaTeX
Inside the post toolbox, click the Formula button. You can toggle between the Live Editor, where you can type out formulas via a virtual keyboard, and the Basic Editor, where you can see and enter the
code that's generating the formula.
---
Share Coding Projects
The <></> button creates a "code block" element in the editor which lets you write text which will be formatted like code, and will be auto-syntax-highlighted if our system is able to detect the language you've written/pasted in. This feature doesn't execute the code.
If you want to execute coding projects, you could use a third-party website and then link into Yellowdig.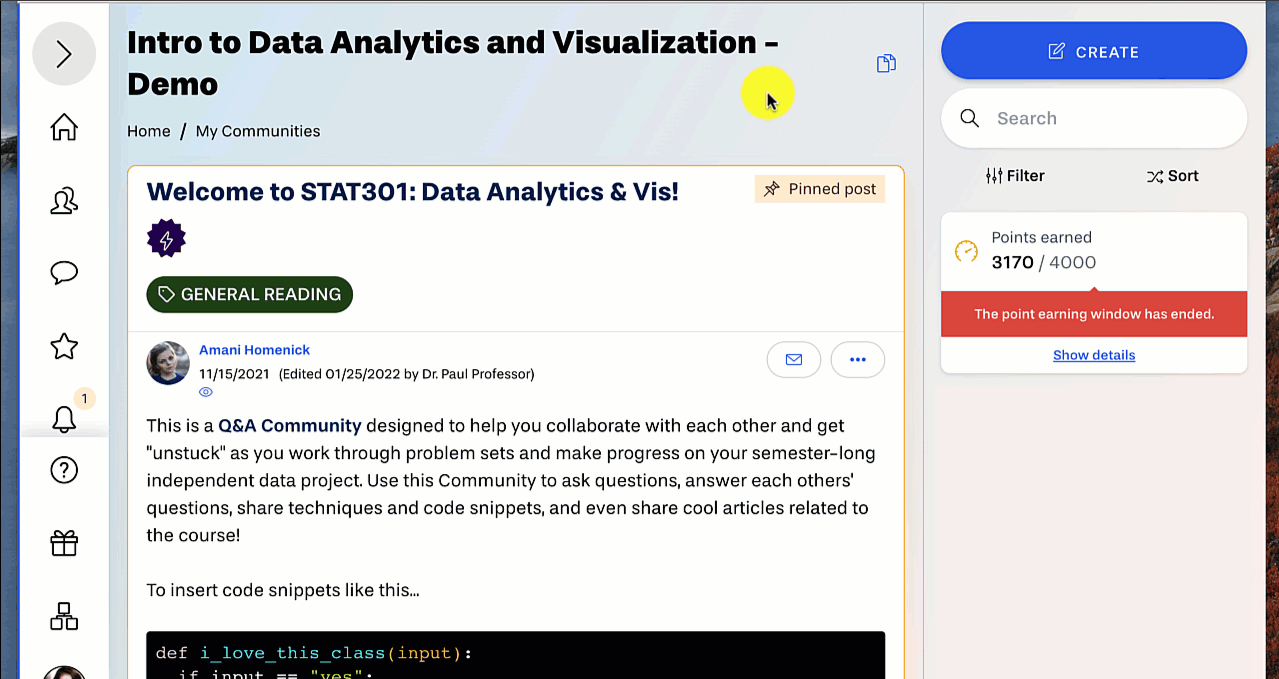 ---
Please provide your feedback about this article.
Submit your feedback here. We value your time to share your thoughts.