IN THIS ARTICLE
Creating a new LMS Assignment Link
- Step 1: Access your Yellowdig Community
- Step 2: Navigate to the LMS Assignment Link Page
- Step 3: Create Your LMS Assignment Link
Managing an Existing LMS Assignment Link
⚠️ LTI 1.3 ONLY
This guide is intended solely for organizations operating on LTI 1.3. This option is not available under the management settings if you are utilizing a 1.1 LTI installation
. Please refer to this
section
in our
Knowledge Base
to find the correct article corresponding to your 1.1 LMS installation.
Introduction
Welcome to the Yellowdig guide on integrating the LMS Assignment Link! This comprehensive article will provide you with a step-by-step walkthrough on creating a graded assignment for your LMS grade book (Canvas, Blackboard, D2L, Moodle, etc.) from within your Yellowdig Community.
Creating a new LMS Assignment Link
Step 1: Access your Yellowdig Community
To begin, log in to your Yellowdig account and navigate to the community where you wish to create an LMS assignment link. If you're unsure how to log in or access your community, please refer to the Yellowdig Knowledge Base articles on account management and community navigation.
Step 2: Navigate to the LMS Assignment Link Page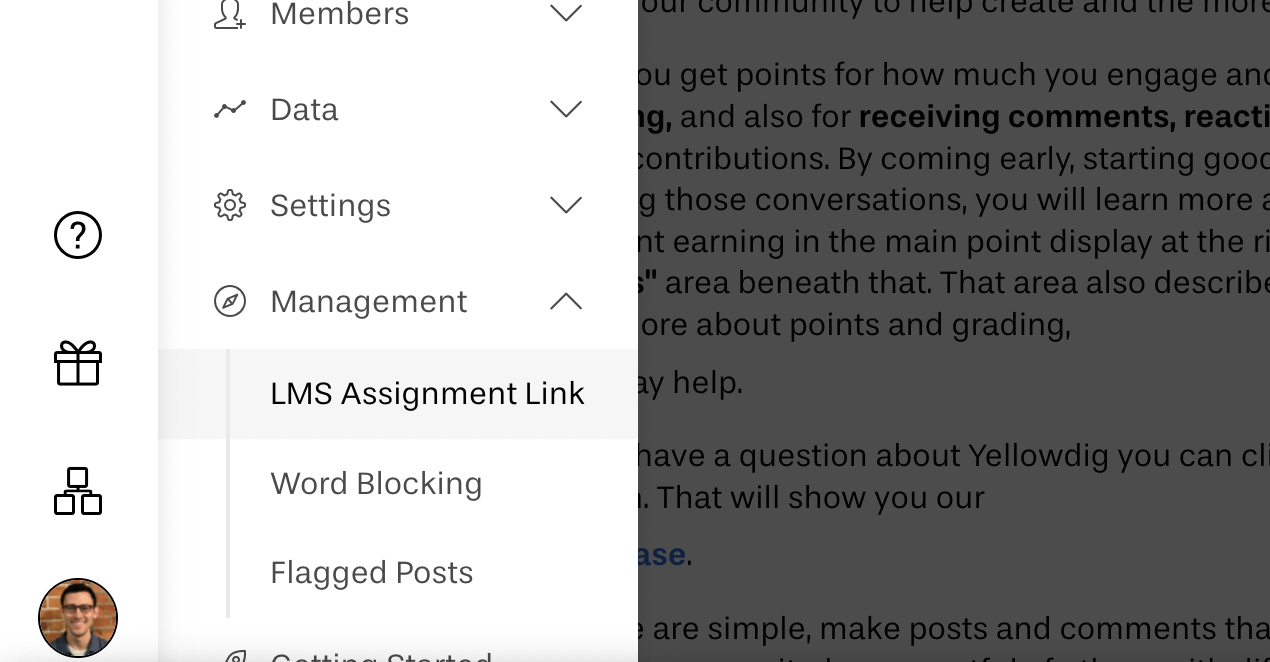 Once you're inside the desired community, locate the navigation menu on the top left-hand side of the page.
Click on the "LMS Assignment Link" option. This will direct you to the LMS Assignment Link, where you can create and manage your assignment link.
Step 3: Create Your LMS Assignment Link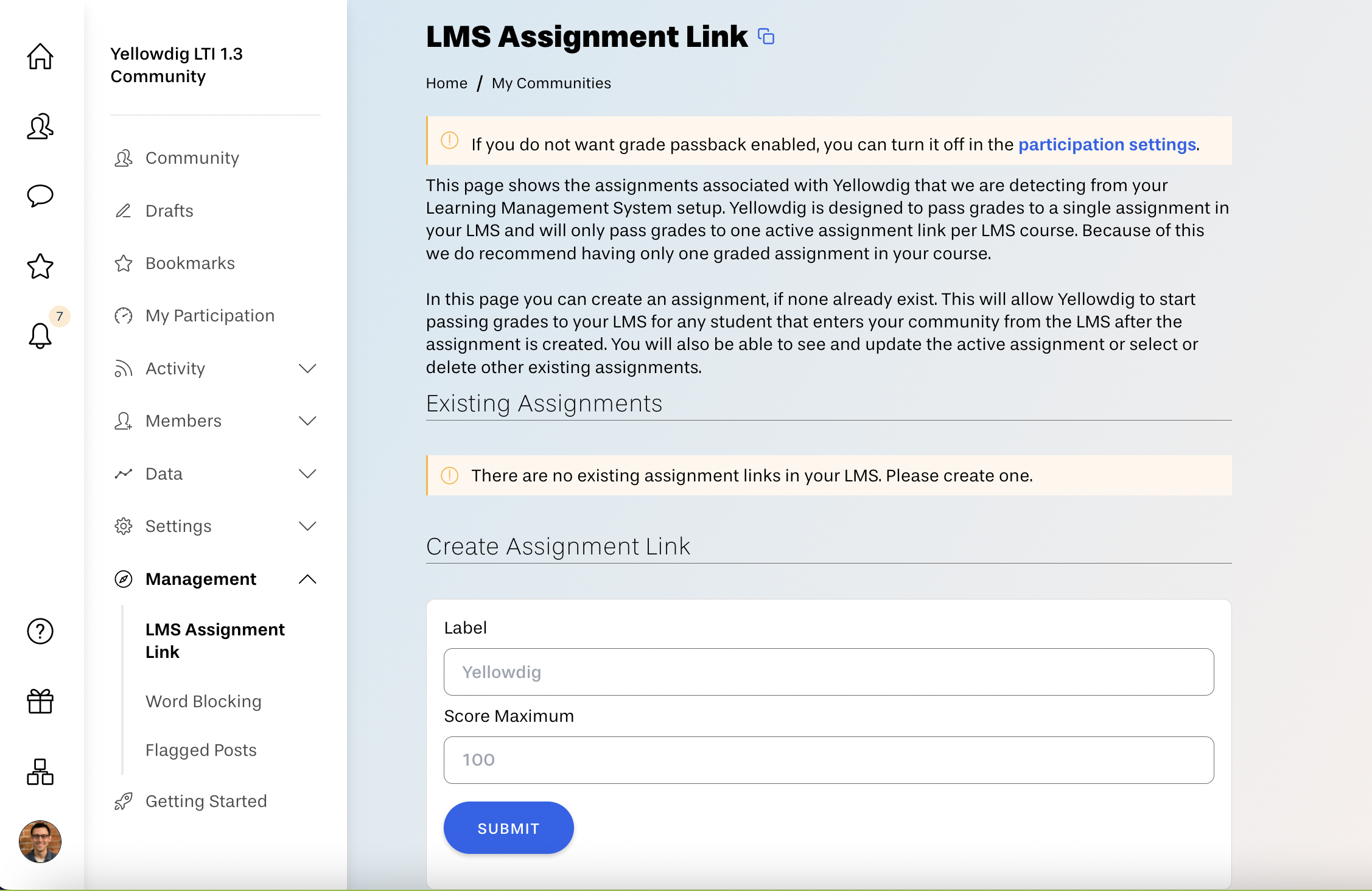 On the LMS Assignment Link page, a form will appear, prompting you to fill in the details for your assignment link.
Provide a clear and descriptive Label for the assignment link, such as "Yellowdig Participation".
Enter the Score Maximum for Yellowdig. This is the number of points that will be allocated to Yellowdig inside your LMS gradebook.
Once you've completed all necessary fields, click the "Submit" button to create your LMS assignment link.
Managing an Existing LMS Assignment Link
On the LMS Assignment Link page, you'll see a list of all existing links within the community (Note: only use one link per community if you want automatic passback to work properly).
To edit a link, click the "Update" button next to the assignment link you wish to modify. You can then update any relevant details and save your changes.
If you have two links by accident, you can delete the unneeded one by clicking the "Delete" button next to the assignment link you wish to remove. A confirmation prompt will appear to ensure you want to proceed with the deletion.